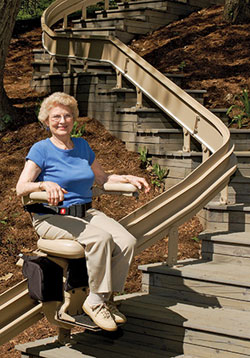 Enjoying the outdoors and getting some Vitamin D is essential to maintaining a healthy lifestyle. While it may be easy to walk outside, getting back to your home may become a challenge. Stair lifts have been seen to aid people indoors, and the same can be done outside with Outdoor Stairlifts.
What Is An Outdoor Stairlift?
A stair lift is a device installed on a staircase to transport a person along the motorized track. The lift can hold from 200-500lbs and offer a safe way to get down or upstairs without tiring out your body.
Outdoor Stairlifts Offer Versatility In Application
From the sidewalk to front porch, or deck to backyard, this stair lift can be used anywhere for your outdoor use. The installation process is simple and comes with two controls for calling and sending the chair to its direct location. Since these controls are wireless, you won't have to worry about there being a mess of tangled wires.
Placing an indoor lift with a plastic cover on top does not mean it can sustain exterior conditions. This stair lift is meant to stay outside and contains a weather protection cover. While covered, dirt, debris, and moisture will be kept out so the chair will be clean and dry for it's next use. The cover can shelter against corrosion so it will stay in good shape for an extended period of time. The seat can also be folded up for a smaller appearance of about 14 inches.
Besides a retractable seat belt, there are a number of other safety features on the outdoor lift. The seat can move in a swivel rotation to provide an easy time with entry and exit. Sensors are also located on the footrest and carriage which will instantly stop the device if an obstacle is encountered. And if there is a temporary failure of electrical service to your home, the two 12-volt batteries within the lift will supply uninterrupted stair operation.
Going outside can now be more enjoyable with the press of a button. The outdoor stair lift may seem like a steep investment, but the convenience of safety this device offers will make it worthwhile.