Stairlifts, Straight Stairlifts, and Curved Starlifts in Libertyville, IL
Windy City Stairlifts offers Savaria Stairlifts, Straight Stair Chairs, Curved Stairlifts and other Stair Lifts in Libertyville and Chicago, Illinois and all surrounding areas.
Illinois' #1 provider of all types of Stairlifts and Accessibility Products in Libertyville and Chicago, Illinois
Call Today For A Free No Obligation Quote: (844) 70-WINDY / (844) 709-4639
Best Choice for Stairlifts in Libertyville and Chicago, Illinois
Windy City Stairlifts is located in the Chicago Metro area and services the entire state of Illinois. We provide you with over 100 years of home accessibility experience and we are a Savaria Stairlift partner. All of our installers are well-educated in Savaria mobility products with years of experience installing chair lifts. We firmly believe in providing home accessibility equipment that is the safest and most reliable available. We have a strong passion for the work we do and it shows in our end products. We believe pricing should be fair for the market and we strive to keep it that way. We provide a warranty on Savaria products and this shows our commitment and dedication towards providing the best service possible.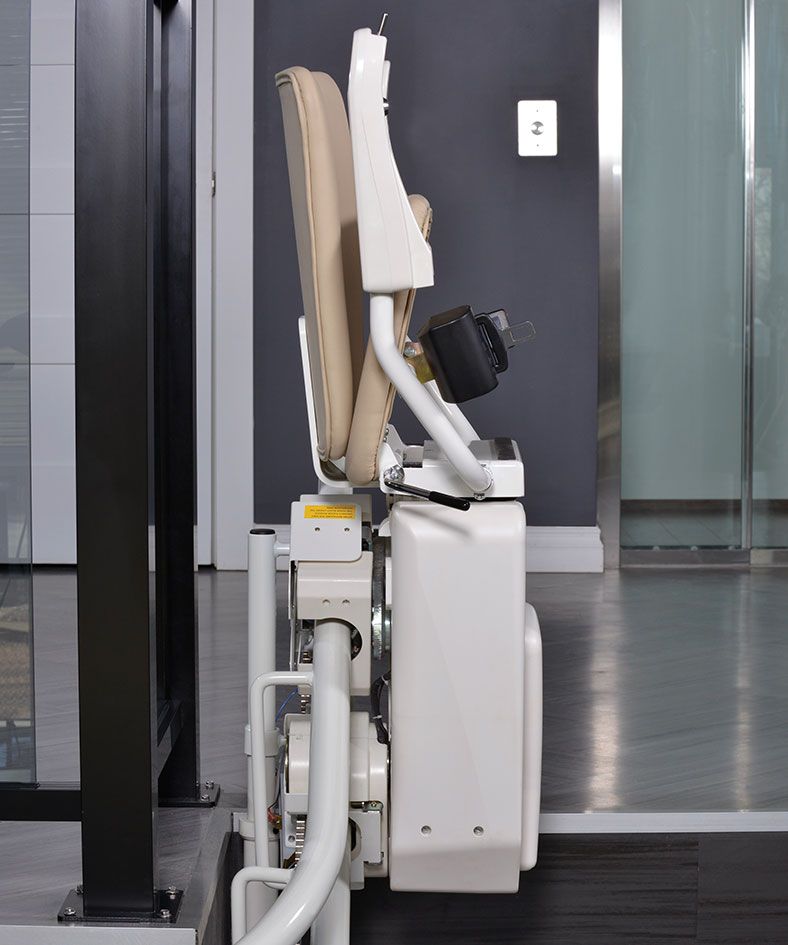 A Great Place to Live and Work with an Interesting History Libertyville, Illinois
Libertyville is a village in Lake County, Illinois, United States and a suburb of Chicago. It is located 5 miles west of Lake Michigan on the Des Plaines River. The 2014 census population was 20,512. (There is also a township of the same name, which includes the village and some surrounding areas.) Located in northeastern Illinois, southwest of Waukegan and west of Lake Forest, its immediate neighbors are Mundele into the west, Green Oaks, Mettawa, and Rondout to the east, Gurnee to the north, Grayslake to the northwest, and Vernon Hills to the south.The land that is now Libertyville was the property of the Illinois River Potawatomi Indians until August 1829, when economic and resource pressures forced the tribe to sell much of their land in northern Illinois to the U.S. government for $12,000 cash, an additional $12,000 in goods, plus an annual delivery of 50 barrels of salt.Pursuant to the treaty, the Potawatomi left their lands by the mid-1830s, and by 1835 the future Libertyville had its first recorded non-indigenous resident, George Vardin. Said to be a "well-educated" English immigrant with a wife and a young daughter, Vardin lived in a cabin located where the Cook Park branch of the Cook Memorial Public Library District stands today. Though he apparently moved on to the west that same year, the settlement that grew up around his cabin was initially known as Vardin's Grove. In 1836, during the celebrations that marked the 60th anniversary of the U.S. Declaration of Independence, the community voted to name itself Independence Grove. 1837 brought the town's first practicing physician, Jesse Foster, followed quickly by its first lawyer, Horace Butler, for whom Butler Lake is named. The professionals needed services, so a post office opened, necessitating a third name change, because another Independence Grove existed elsewhere in the state. On April 16, 1837, the new post office was registered under the name Libertyville.The town's name changed again two years later to Burlington when it became the county seat of Lake County. When the county seat moved to Little Fort (now Waukegan) in 1841, the name reverted to Libertyville, without further changes
Windy City Stairlifts Offers Straight, Curved and other Savaria Stairlifts in Libertyville and Chicago, Illinois
Used in applications where the stair case is straight with no intermediate landing. Straight stair lifts are available as rentals and refurbished stairlift units as well as new purchases.
Specially crafted by artisans through a state of the art design center to meet your specific stairway requirements. When finished these stair chairs will fit exactly into your existing curved stairwell with no modifications required.

Speak to a Specialist Today!