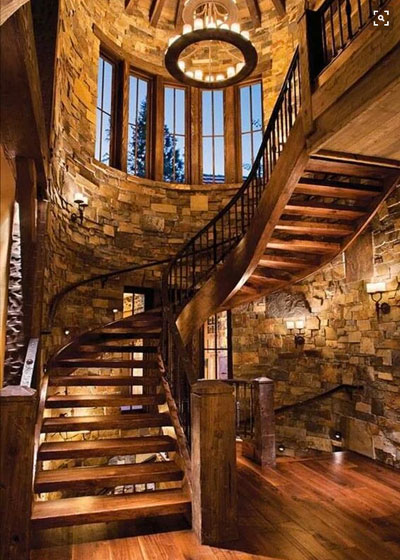 When choosing or building a house, you may be drawn to a large, winding staircase. As people gaze at the grandeur, they don't think that one day it's possible walking up the stairs is no longer an option. You've seen stair lifts for a straight set of stairs indoors and outdoors to help riders move between levels, and yes there are curved stairlifts for winding staircases.
Curved Stairlifts For Winding Staircases
A curved stair lift will be specifically designed for your home and to match the decor. It provides a fit tight enough around the railing so the ride will be smooth and stable while turning around a corner. There will be enough space that it won't take up too much room for those who are able to walk up the stairs at a separate time. Seats can also be folded while not in use to give more leeway. The installation is simple and the lift will attach directly to your steps by a bracket system. A number of brackets will be determined by the length of the staircase. Most importantly, they can be made to fit a winding staircase that is very high.
Standard stair lifts can hold up to 300 pounds and heavy lifts can accommodate about 600 pounds. A wider seat may be needed which is a few inches larger than the standard. Height is another factor that must be considered when customizing a lift. The chair has to be low enough so the person can sit down and stand up easily. Options to adjust the seat may be available at the time of installation.
If your heart is set on purchasing a new home or keeping it the way it is, the stair lift will eliminate this difficult decision. You won't have to consider remodeling a multi-story home or moving into a single-story one. This lift is a viable option for those who have undergone surgery or suffered an injury that need assistance to get around the house. Most importantly, the stair lift gives a person the independence and safety they need.