Stairlifts, Straight Stairlifts, and Curved Starlifts in Arlington Heights, IL
Windy City Stairlifts offers Savaria Stairlifts, Straight Stair Chairs, Curved Stairlifts and other Stair Lifts in Chicago, Arlington Heights Illinois and all surrounding areas.
Illinois' #1 provider of all types of Stairlifts and Accessibility Products in Arlington Heights Illinois
Call Today For A Free No Obligation Quote: (844) 70-WINDY / (844) 709-4639
Stairlifts in the Village of Arlington Heights, Illinois and surrounding areas.​
Windy City Stairlifts is located in the Chicago Metro area and services the entire state of Illinois. We provide you with over 100 years of home accessibility experience and we are a Savaria Stairlift partner. All of our installers are well-educated in Savaria products with years of experience installing stairlifts. We firmly believe in providing home accessibility equipment that is the safest and most reliable available. We have a strong passion for the work we do and it shows in our end products. We believe pricing should be fair for the market and we strive to keep it that way. We provide a warranty on Savaria products and this shows our commitment and dedication towards providing the best service possible.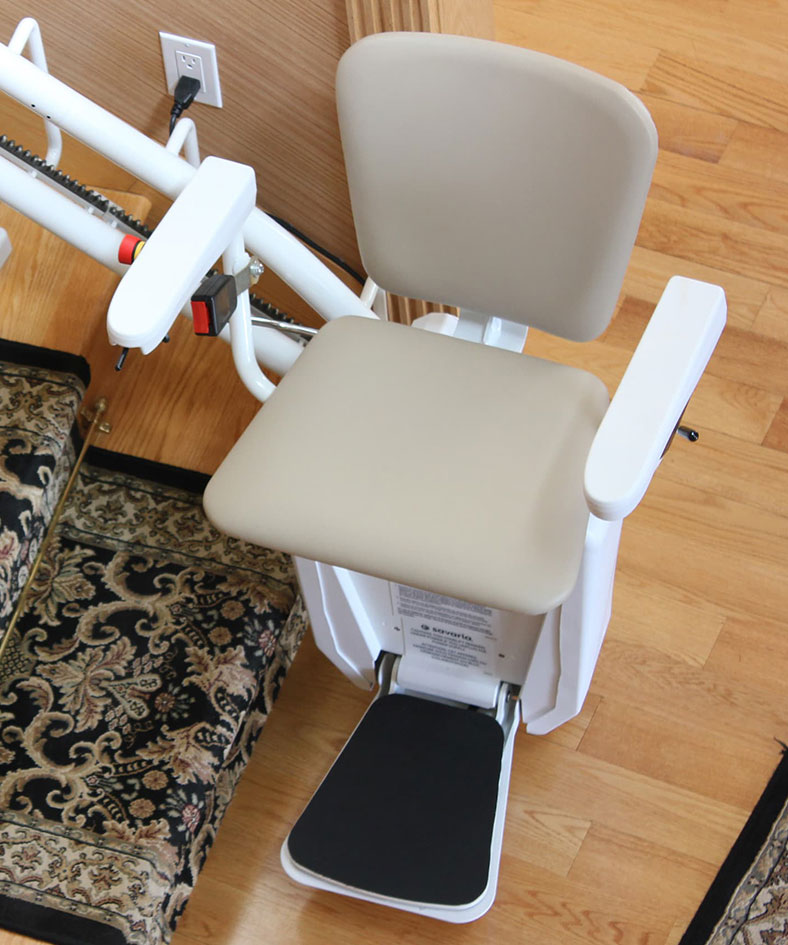 A great history in The Village of Arlington Heights, Illinois
Arlington Heights is a village in Cook County in the U.S. state of Illinois. A suburb of Chicago, it lies about 25 miles (40 km) northwest of the city's downtown. The population was 75,101 at the 2010 census. It is the most populous community in the United States that is incorporated as a "village", although it is not far ahead of its nearby Illinois neighboring villages of Schaumburg and Bolingbrook and adjacent Palatine.Arlington Heights is known for Arlington Park Race Track, home of the Arlington Million, a Breeders' Cup qualifying event; it also hosted the Breeders' Cup Classic in 2002. The village is also home to the Arlington Heights Memorial Library, which has one of the largest collections in the state. Arlington Heights lies mostly in the western part of Wheeling Township, with territory in adjacent Elk Grove and Palatine townships, in an area originally notable for the absence of groves and trees. 
The General Land Office began selling land here in 1835. In 1853, William Dunton, originally from Oswego, New York, persuaded the Illinois & Wisconsin Railroad to make a stop here, and laid out a town called Dunton. Dunton Avenue, named after William Dunton, is the village's base line that splits addresses east and west, with Campbell Street splitting north and south. By 1850, the area had largely changed its ethnic composition, as many German farmers from Saxony had arrived during the 1840s. John Klehm might serve as an example; he was at first a potato farmer, supplying the Chicago market, and in 1856 began a nursery for cherry, apple, and pear trees, later moving into spruce, maple, and elm, and then flowers. By the late 1850s the area had become noted for its truck farms, sending dairy products as well as vegetables to Chicago on the railroad. The little town at the depot slowly grew, acquiring a blacksmith, a cheese factory, a hardware store, and a hotel. It incorporated as Arlington Heights in 1887, when its population numbered about 1,000. Most were farmers, but they were joined by others who worked in Chicago, since Arlington Heights was an early commuter suburb.
Windy City Stairlifts Offers Savaria Straight, Curved and other Stairlifts In Arlington Heights and Chicago, IL
Used in applications where the stair case is straight with no intermediate landing. Straight stair lifts are available as rentals and refurbished stairlift units as well as new purchases.
Specially crafted by artisans through a state of the art design center to meet your specific stairway requirements. When finished these stair chairs will fit exactly into your existing curved stairwell with no modifications required.

Talk to a Specialist Today!
Let Windy City Stairlifts find the right mobility solution for you.