Stairlifts, Straight Stairlifts, and Curved Starlifts in Champaign, IL
Windy City Stairlifts offers Savaria Stairlifts, Straight Stair Chairs, Curved Stairlifts and other Stair Lifts in Chicago, Champaign Illinois and all surrounding areas.
Illinois' #1 provider of all types of Stairlifts and Accessibility Products in Champaign, Illinois
Call Today For A Free No Obligation Quote: (844) 70-WINDY / (844) 709-4639
Best Choice for Stairlifts In Champaign and Chicago, Illinois
Windy City Stairlifts is located in the Chicago Metro area and services the entire state of Illinois. We provide you with over 100 years of home accessibility experience and we are a Savaria Stairlift partner. All of our installers are experienced in Savaria products with years of experience installing stairlifts. We firmly believe in providing home accessibility equipment that is the safest and most reliable available. We have a strong passion for the work we do and it shows in our end products. We believe pricing should be fair for the market and we strive to keep it that way. We provide a warranty on Savaria products and this shows our commitment and dedication towards providing the best service possible.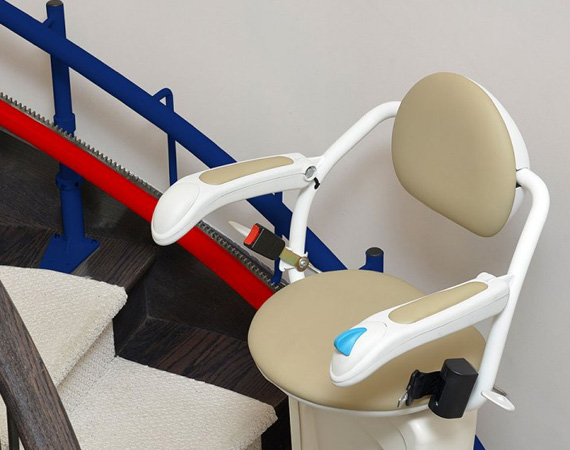 A Great Place to Live and Work with an Interesting History Champaign, Illinois
Champaign is notable for sharing the campus of the University of Illinois at Urbana–Champaign with its sister city of Urbana. Champaign is also home to Parkland College which serves about 18,000 students during the academic year. Due to the university and a number of well known technology startup companies, it is often referred to as the hub, or a significant landmark, of the Silicon Prairie. Champaign houses offices for Sony, and for the Fortune 500 companies Abbott, Archer Daniels Midland (ADM), Caterpillar, Deere & Company, Dow Chemical Company, IBM, and State Farm. Champaign was founded in 1855, when the Illinois Central Railroad laid its rail track two miles just west of downtown Urbana. Originally called "West Urbana", it was renamed Champaign when it acquired a city charter in 1860. Both the city and county name were derived from Champaign County, Ohio. During February 1969, Carl Perkins joined with Bob Dylan to write the song "Champaign, Illinois", which Perkins released on his album On Top. The band Old 97's took another Bob Dylan song, "Desolation Row", and combined its melody with new lyrics to make a new song "Champaign, Illinois", which they released with Dylan's blessing on their 2010 album The Grand Theatre Volume One. It achieved considerable popularity. The two "Champaign, Illinois" songs are not similar to each other, except that Bob Dylan was involved in both of them. On September 22, 1985, Champaign hosted the first Farm Aid concert at the University of Illinois' Memorial Stadium. The concert drew a crowd of 80,000 people and raised over $7 million for American family farmers.In 2005, Champaign-Urbana (specifically the University of Illinois) was the location of the National Science Olympiad Tournament, attracting young scientists from all 50 states. The city also hosts the state Science Olympiad competition every year. The University of Illinois at Urbana–Champaign once again hosted the National competition on May 20–22, 2010.In 2013, Champaign was rated fifth best place in the United States for a healthy work-life balance.
Windy City Stairlifts Offers New and Used Straight, Curved and Outdoor Savaria Stairlifts In Champaign, Illinois and Chicago, Illinois
Used in applications where the stair case is straight with no intermediate landing. Straight stair lifts are available as rentals and refurbished stairlift units as well as new purchases.
Specially crafted by artisans through a state of the art design center to meet your specific stairway requirements. When finished these stair chairs will fit exactly into your existing curved stairwell with no modifications required.

Talk to a Specialist Today